Have I mentioned my garden lately?
Well if I haven't I am going to now...he, he, he... I had a woooonderful day today. I worked in the garden almost all day ;-).
Gardening is so relaxing and fun. When I walked out the door the air was so clean and fresh and crisp and well just plain fall, I LOVE it!!!
I have neglected my garden for the past month or so. I had so many other things to do and I just left my garden at the hands of nature, the poor thing...no wonder my stevia died. Well today I was going to do something about it and so I did, but my garden went from looking like this:
to looking like this :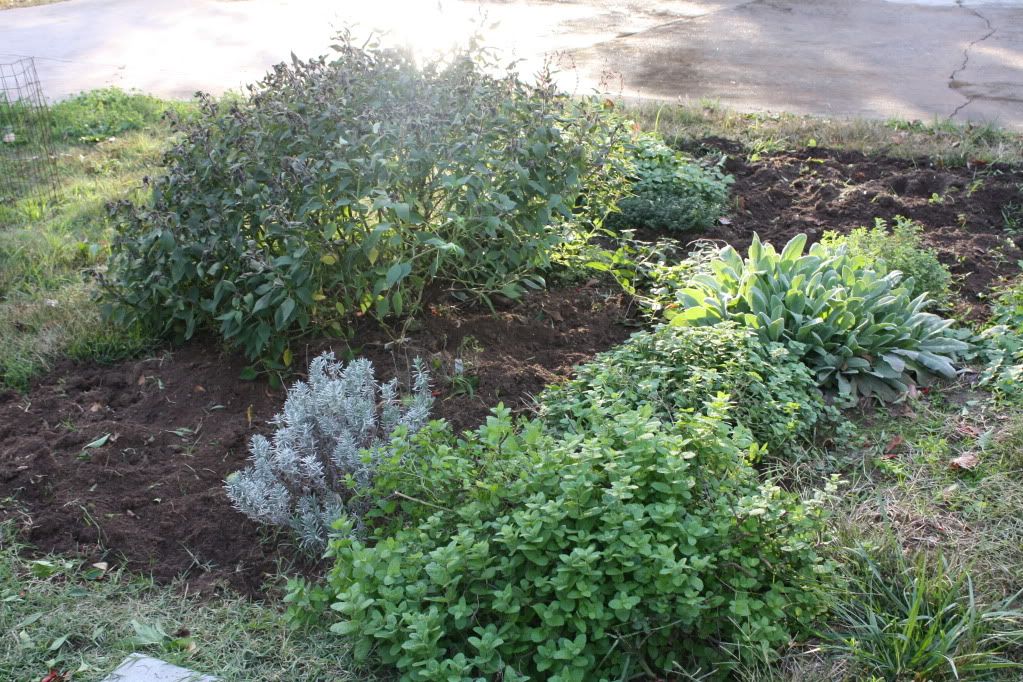 in a matter of hours, it was so, so, well empty (O_o). But it will be ok when I get to plant some new stuff in it next spring, isn't it wonderful how God made seasons for everything? "
To every thing there is a season, and a time to every purpose under the heaven:...a time to plant, and a time to pluck up that which is planted
". Well today I plucked up that which I had planted. I thought it was sad in a way, but it had to be done (even if it did make my little plot look a little empty). I am sure I looked like a gypsy once I got done, my hair going every which-a-way and it was full of dirt and weeds (don't ask me how they got there?), and my feet as black as the dirt they had been stuck in, my fingernails so dirty they looked beyond repair ;-) it was definately an enjoyable day... as you probably know I love just sticking my bare feet into freshly tilled (or in this case hoed) dirt, I just absolutely LOVE it!!! Sometimes I wish I could have a whole field of tilled dirt I could just lay in ;) Well maybe someday, eh? Who knows?
I do know one thing I love to plant things and see them grow, and this got me to thinking about how God is the same way, why else would he say to "
Consider the lilies how they grow

:
..." I think we are a lot like those lilies in fact I know we are because Jesus tells us the parable of the sower (read
here
) and the seed falling on good ground, then He tells in
John 12:24
that a seed must die first before it will bear fruit.
Sometimes I wonder do we as Christians think we will be able to live like the world and serve Christ also? No my friends, would it not be better to suffer for Christ than to lose a soul just so we can have more fun? Just as the seed in the ground must die before it bears fruit, so must we die to self so that we may be a beautiful glorious light for others to see. If we are living in Christ will He not make our
burdens lighter
, if we deight in the LORD will He not give us the
desires of our hearts
? We must not
dim our candle
by living like the world, we must be set apart, a
Holy and Righteous people
so that others may see that we are different and be able to ask us
"of the hope that is in us"
. Will you be like the seed that fell on good ground, will you die to self and serve Christ wholeheartedly ? Will you be a seed in God's Garden?
Here are some pictures of todays work and harvest...enjoy and leave me a comment on what you think :-)













"Give her of the fruit
of her hands;
and let her own works
praise her in the gates."
~ Proverbs 31:31 ~


P.S. - the crimson letterings are links to the verses from which I took my information.